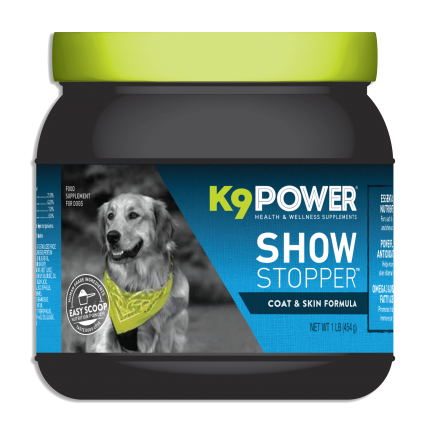 Show Stopper™
Show Stopper is designed to help dogs look and feel their absolute best and includes a wide array of natural factors to supplement weak links in nutrition, leading to a glossy, healthy coat and overall good health.
Delicious meat-based powder dogs love!
Essential Nutrients for a soft, silky, and shiny coat
Support for dogs with sensitive skin
Nutritional support helps dogs achieve a soft, silky, glossy, and healthy coat
Powerful Antioxidant blend to support a normal inflammatory response
Essential fatty acids for a healthy coat and skin
Supports pigmentation and highlights in coat color
Omega 3 & Omega 6 Fatty Acids promote a healthy immune system
May help with occasional or seasonal allergies
Read more...
| | | | |
| --- | --- | --- | --- |
| Container Size: 0,454 kg | Container Size: 3,629 kg | | |
| Serving Size: 28g - 1 scoop | Serving Size: 28g - 1 scoop | | |
| | | | |
| | | | |
Olive Oil
Probiotics
Minerals
Vitamins
Phytonutrients
Antioxidants
Essential Fatty Acids
Dietary Fiber
Guaranteed Analysis (per scoop):
Crude Protein (Min)…..21%
Crude Fat (Min.)…..43%
Crude Fiber (Max)…..7%
Moisture (Max)…..8%
Ingredients: Chicken, Powdered Chicken fat, Stabilized Rice bran, Rice concentrate, Coconut oil, Whole egg, Protein Free Beef Tallow, Camelina oil, Cod liver oil, Olive oil, Safflower oil, carrot, blueberries, Inulin chicory, (Fructooligosaccharides), Broccoli sprouts, Beet juice, Kelp, Tart cherry, Citrus Meal, Salt, Potassium chloride, Dl alpha tocopherol (Vitamin E) Taurine, Glutamic Acid, Proprietary blend of dried: (4b1891) Lactobacillus acidophilus NBIMCC 8242, (1k20735) Lactobacillus casei ATTC PTA 6135, (4b1890) Lactobacillus salivarius DSM 16351, (1k21008) Lactobacillus plantarum NCIMB 30238, (4d2) Lactobacillus rhamnosus CNCM-I-3698, 1k20715 Lactobacillus brevis DSM 21982, 4b1890 Bifidobacterium DSM 16284, 4b1891 Streptococcus thermophilus NBIMCC 8253, Proprietary blend of dried Protease, Amylase, Cellulase, Hemicellulase, Lipase, Papain, Lutein. Contains: Egg, Fish.
Contains No: flax, wheat, gluten, soy, by-products, artificial colors or artificial flavors.
Feeding Directions: Just mix in with your dog's regular food, wet or dry. Begin with 1/2 scoop. Build up to full amount over two weeks. Daily amount can be divided among feedings. Amount fed can be tailored to individual dog's needs.
2 - 9 kg ½ scoop
10 - 22 kg 1 scoop
23 - 36 kg 1½ scoop
37 - 45 kg 2 scoops
45 plus kg 3 scoops
Formulated for dogs 6 months and older.
Hide details