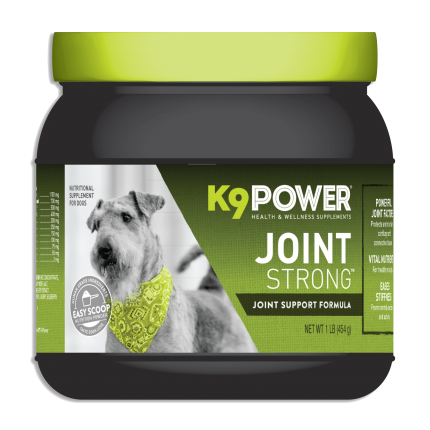 K9 Joint Strong™
Supports healthy joints and flexibility while maintaining joint mobility. Perfect for older dogs. Keep your dog's joints healthy.
Delicious meat-based powder dogs love
Supports healthy hips and joints
Helps relieve occasional joint stiffness
Helps maintain joint mobility
Enhances healthy joint fluid viscosity
Glucosamine helps maintain synovial fluid that lubricates joints
Promotes healthy joints and flexibility
Eases your dog's joint stiffness due to normal daily exercise and activity
Promotes cartilage development and joint health
Enhances the functions of joint and connective tissue
Supports healthy hip, joint, and connective tissue
Helps build and maintain strong bones
K9 JOINT STRONG is designed to provide dual benefits joint factors and antioxidants. Joint factors include USP-standardized glucosamine, MSM and others to help maintain normal joint function. In addition, natural antioxidants help protect cells (including joint) from free radical damage. This two-way joint support health strategy is meant to help maintain joint mobility.
Read more...
| | | |
| --- | --- | --- |
| Container Size: 0,454 kg | Container Size: 0,908 kg | |
| Serving Size: 12g - 1 scoop (4 teaspoons) | Serving size: 12g- 1 scoop (4 teaspoons) | |
| Servings Per Container: 38 | Servings Per Container: 76 | |
| | | |
Animal Naturals K9 Joint Strong Human Grade Active Ingredients: Glucosamine Sulfate 1,150 mg;
TMG (Trimethylglycine) 700 mg; MSM (Methyl Sulfonyl Methane) 500 mg, Chondroitin Sulfate (Bovine trachea) 400 mg; Milk Protein Isolate 300mg; Cod liver oil 250mg; chicken collagen 150mg; CMO (Cetyl Myristoleate) 100 mg; Calcium ascorbate 75mg; Curcumin 50mg; Hyaluronic acid 2mg.
Inactive Ingredients: Chicken, Agave Nectar, Stabilized Rice Bran, Rice Concentrate, Camelina Oil, Tart Cherry Powder, Kelp powder, Salt, Potassium chloride, pomegranate, bilberry extract, cranberry, raspberry, strawberry, prune, cherry, bilberry. Contains: Fish, shellfish.
Contains No: flax, wheat, gluten, soy, by-products, artificial colors or artificial flavors.
Feeding Directions: Mix with dog's regular food at meal time. Administer daily. Divide amount equally if administered more than once per day.
2-9 kg ½ scoop
10-22 kg 1 scoop
23-36 kg 1½ scoops
37 kg plus 2 scoops
Cautions: Safe use in pregnant animals intended for breeding has not been proven. Consult with your veterinarian before using this product in animals: with clotting disorders; being treated with anticoagulant medications; diabetes, or any metabolic disorder causing hyperglycemia; history of urinary tract stones; known allergies to shellfish. If lameness worsens, discontinue use and contact your veterinarian. Administer during or after the animal has eaten to reduce incidence of gastrointestinal upset.
Usage of Product: Formulated for dogs 6 months and older.
Hide details