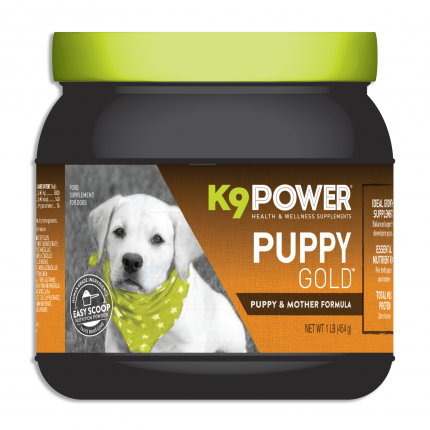 K9 Puppy Gold™
Puppy and Mom supplement that provides key nutrients, supports muscle, joint and bone growth in an optimized formula that is easily digestible.

Start your puppy off on the right paw. In the beginning stages of your dog's development, proper nutrition is key to promoting good health for their entire life. The K9 Power Puppy GoldTM formula supplies your new friend with the vitamins and nutrients that help them during their critical initial growth. The areas that this formula targets are skeletal and muscular formation as well as proper organ development. Puppy Gold is a formula that helps your puppy grow properly resulting a healthier life.
Read more...


The same nutrients that help puppies grow after birth help them grow inside mom. Feeding Puppy Gold to pregnant dogs is not only good for the puppies, but for mom, too. The Puppy Gold formula also has factors that help mothers during their pregnancy, as well as their recovery after birth.
Ideal Growth Supplement - Balanced support for developing puppies.
Essential Nutrient Mix - For both puppies and mothers.
Total Milk Protein - Zero lactose!

Guaranteed Analysis (per scoop- 28g)
Crude Protein (Min)…..29%
Crude Fat (Min.)…..32%
Crude Fiber (Max)…..4%
Moisture (Max)…..8%

Calorie Content (fed):
(Kcal ME / Kg)…..5000
(Kcal ME / scoop)…..140
Ingredients: Milk protein isolate, Maltodextrin, Creatine*, Silicon dioxide, Whey protein concentrate*, Safflower oil, Inulin chicory (Fructo-oligosaccharides), Salt, Potassium chloride, Proprietary blend of dried: Lactobacillus acidophilus, Lactobacillus casei, Lactobacillus salivarius, Lactobacillus plantarum, Lactobacillus rhamnosus, Lactobacillus brevis, Bifidobacterium, bifidum, Bifidobacterium, longum, Streptococcus thermophilus, L-Arginine, L-Histidine, L-Glutamine, Taurine, Calcium citrate, Proprietary blend of Vitamins and minerals: Magnesium oxide, Potassium iodide, Choline bitartrate, Alpha tocopherol (Vitamin E), Pyridoxine HCL, Inositol, Di-calcium phosphate, Copper gluconate, Zinc oxide, Folic acid, Thiamin monohydrate, Calcium lactate, Sodium selenite, Vitamin B-12 supplement. Contains: Milk. *Not recognized as an essential nutrient by the AAFCO Dog Food Nutrient Profiles.
Contains a source of live (viable) naturally occurring microorganisms. Total microorganisms: CFU/g 20 billion at manufacture.
Contains No: flax, wheat, gluten, soy, by-products, artificial colors or artificial flavors.
Puppy feeding instructions: Mix ½ scoop (per 1 cup of food). Mix with warm water (210 C) to a milk like consistency, then mix with food. Begin with ¼ scoop and build up to full amount over 2 weeks. Daily amount can be divided among feedings, and can tailored to individual dog's needs.
Pregnant / Nursing mother feeding instructions: Provide during pregnancy and continue for one month after weaning. Mix with food (wet or dry) Begin with ½ scoop and build up to full amount over 1 week. Daily amount can be divided among feedings, and can tailored to individual dog's needs
Daily Serving Size (Scoops)
2,2 – 4,5 kg .......½
5 – 9kg.............. 1
9,5 –13,5 kg...... 1½
14 – 18 kg........... 2
18,5-22,5 kg........ 2½
from 22,5 kg.... ½ scoop per 4,5 kg of body weight
Usage of Product: Formulated for dogs up to 6-12 months. Breeds larger than 40-lbs may benefit from longer usage.
Hide details