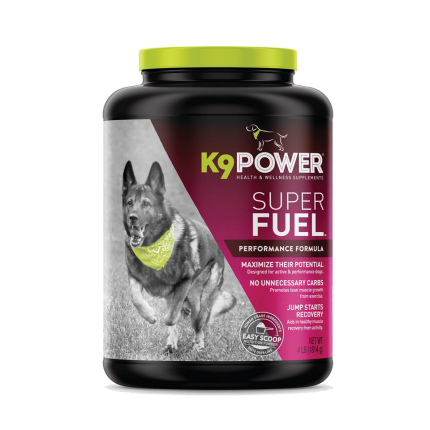 K9 Super Fuel™
Designed to be the ultimate canine bodybuilder! Based on canine studies to help fuel and support solid muscle growth and performance. Did you know most human sports nutrients were first proven on dogs? It's true. Gluten Free!
Delicious meat-based powder dogs love!
Extends endurance and helps reduce recovery time, helps with over training issues
Converts calories into lean muscle mass and more energy
Helps improve recovery time
Supports muscle growth/repair, prevents break down
Build lean muscle, burn fat
Support health and immunity functions
Improves overall quality of life and stress resistance, supports immune function
Great for post surgery support
Read more...
K9 SuperFuel helps support the nutritional needs of high performance dogs Designed for athletic work dogs, K9 SuperFuel can help improve the life of any active dog! Energy Fuels Readily available fuels hlep combat fatigue. Total Body Support Features nutrients that support many body systems.
| | | |
| --- | --- | --- |
| Container Size: 3,629 kg | Container Size: 1,816 kg | |
| Serving Size: 35g - 1 scoop | Serving Size: 35g - 1 scoop | |
| | | |
Guaranteed Analysis (per scoop):
Crude Protein (Min)…..29%
Crude Fat (Min.)…..37%
Crude Fiber (Max)…..3%
Moisture (Max)…..8%
Ingredients: Chicken, Powdered Chicken fat, Stabilized Rice bran, Milk protein isolate, Rice concentrate, Agave nectar, Maltodextrin, Camelina oil, Citrus meal, Safflower oil, Whole egg, Coconut oil, Methylsulfonylmethane (MSM)*, Salt, Potassium chloride, Chondroitin sulfate*, Cruciferous vegetable mix, Dried blueberry, Tart cherry powder, Cranberry fruit powder, L-Leucine*, L-Carnitine*, L-Arginine*, Taurine, L-Glutamine*, Sodium Citrate, Proprietary blend of dried: (4b1891) Lactobacillus acidophilus NBIMCC 8242, (1k20735) Lactobacillus casei ATTC PTA 6135, (4b1890) Lactobacillus salivarius DSM 16351, (1k21008) Lactobacillus plantarum NCIMB 30238, (4d2) Lactobacillus rhamnosus CNCM-I-3698, 1k20715 Lactobacillus brevis DSM 21982, 4b1890 Bifidobacterium DSM 16284, 4b1891 Streptococcus thermophilus NBIMCC 8253, Potassium iodide, Choline bitartrate, Alpha tocopherol (Vitamin E), Pyridoxine HCL, Inositol, Di-Calcium phosphate, Copper gluconate, Zinc oxide, Folic acid, Thiamin monohydrate, Hyaluronic acid*.
*Not recognized as an essential nutrient by the AAFCO Dog Food Nutrient Profiles
Contains No: flax, wheat, gluten, soy, by-products, artificial colors or artificial flavors.

Feeding Instructions:
With Meals: Feed recommended dosage at meal time(s). Goes great when mix with 1-2 cups of water.
After Workouts: Feed within a half-hour after exercise to support recovery, Mix 1-2 scoops with 1 cup of water
Exercise Level Daily Serving Size per 11kg body weight
Low (walks) ½ Scoop
Moderate (Runs) 1 Scoop
High (Agility, IPO, Hunting, Sprinting) 2 Scoops
Usage of Product: Formulated for dogs 6 months and older.
Hide details